Munzee Newsletter: May 2017 Wrap-Up
In May Munzee was busy moving into our new offices, but that's not to say we didn't keep our players busy too. Take a look back on some of the things that happened last month and what to expect this month as well!
We've spent the last couple months getting the ALL NEW Munzee Headquarters up and running! We have upgraded our offices to a much larger space which is ideal for our constantly growing staff. The new building is located just a few miles from our previous headquarters too, so we still get to call McKinney, TX home.
Some of our players helped us break in the new location with our MH-New Open House event and they even got to see us monkeying around first hand!
---
Flat Matt Has Hit The Map! 
In November 2015 Flat Rob was released and he's been traveling the world ever since. All that travel can be a bit lonely though, so we're excited to release a similarly two-dimensional friend- Flat Matt!
Although Flat Rob comes out to play when Rob is traveling, Flat Matts will be live on the map during days with specific sporting events.
---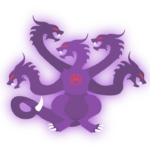 Hail Hydra
The Hydra is the latest Mythological Munzee, and the second in our Classical Myth line. Not much is known about this many-headed beast, although it is said to guard the fabled Fountain Of Youth.
Find a Hydra near you on the Specials Map! 
---
Victorious Vacation
The new Timeshare Munzee is the latest in our Destination line of munzees alongside the Motel, Hotel and Virtual Resort. This physical credit item features 5 Rooms so the first 5 players to cap the Timeshare get a room deployed. Here's the kicker though, Rooms only stay deployed for 30 days!
Join Rockin' Rob Vardeman and get your Timeshare in the Munzee Store TODAY!
---
Totally Tubular Turtles
To celebrate World Turtle Day on May 23rd, Munzee released turtle specials from May 19th through the 28th. These shell-shocking specials were a big hit and helped raise awareness about our slow-crawling friends.
Show your support and buy a World Turtle Day Coin HERE! 
---
Coming in June…
– We've gone green to try and clean up the map.
– Don't forget to keep hydrated.