We gave you a sneak peek at this new Credit type earlier in the week — now, as promised, here's everything you need to know about them!
Like Jewel Shards, Weapon Shards, and Cogs, you'll be able to redeem Candy Corn Credits (CCC) at the Redeem Store for game pieces. However, you may recall that unlike those credit types, Candy Corn Credits can only be redeemed until 02:30 MHQ on Wednesday, November 3rd (when November Clan Wars starts).
How to Earn Candy Corn Credits
Candy Corn Credits can be earned from 00:01 MHQ on Friday, October 1st to 23:59 MHQ on Sunday, October 31st.
You can earn them the following ways:
Goodies You Can Get With Candy Corn Credits
As usual, the most up-to-date list of what's available will be what you see on munzee.com/redeem. The rewards/rates may change from time to time, but to start off with, this is what we have planned:
H3ADL3SS H0RS3MAN Mech
Earn enough Candy Corn Credits to release the haunting H3ADL3SS H0RS3MAN! This spooky spirit is cursed to roam the hills of SleepZee Hollow searching for a new head. When captured it scatters up to 3 Flaming Pumpkins nearby.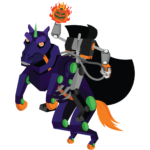 Deploy Points: 600
Capture Points: 250
CapOn Points: 150
Crushed Capture: 500
Crushed CapOn: 400
13 Cogs to Rebuild via Redeem tool
Flaming Pumpkin scatters
Capture Points: 50
CapOn Points: 25
We hope that this limited-time credit type makes everything you do in October a little sweeter!
Munzee on!