Munzee Referral Program Update: Rewards and Badges
Last week, we introduced Referral Leaderboards and Custom Referral Cards as a part of our Referral Program expansion. We told you to be on the look out for more updates, and the time has come! We're happy to announce Referral Rewards and Referral Badges!
Referral Rewards
Word of mouth has made the biggest impact on growing the game, and you, our loyal players, are the most important part of that. Your hard work and passion for the game is what helps it grow. We want to thank and reward you for doing this.
There are now two ways to earn gift cards to the Munzee Online Store through the Referral Munzee program: Introductions and Referral Points Earned. Once you hit certain milestones for these two categories, respectively, you will be sent a gift card code.
These milestones are as follows:
Introductions (each must earn a minimum of 1000 points to qualify)
5 Introductions – $5 Gift Code
25 Introductions – $10 Gift Code
100 Introductions – $25 Gift Code
200 Introductions – $50 Gift Code
Referral Points Earned
500 Referral Points Earned – $5 Gift Code
1500 Referral Points Earned – $10 Gift Code
2500 Referral Points Earned – $15 Gift Code
5000 Referral Points Earned – $25 Gift Code
These rewards will be retroactive, so your past hard work in spreading the game will be acknowledged. For example, if you have 58 Introductions and have earned 2704 Referral Points, you will receive $5 and $10 gift codes for Introduction milestones and $5, $10, and $15 codes for Referral Points Earned milestones.
These will begin awarding tomorrow, April 26th at 01:30 MHQ time. If you've reached any of the milestones, you will separate receive emails with your respective gift codes.
Referral Badges 
Along with the Referral Rewards come Referral Badges. Like the Rewards, the badges are based on Introductions and Referral Points Earned. These badge lines will have to be unlocked one at a time though, so keep sharing your Munzee Referral Code with new players to earn them all!
The first badge for Introductions is the "Business Cards" badge, which you can earn by having 5 Introductions on your Munzee Referral Code.
The first badge for Referral Points Earned is the "Flying Standby" badge for earning 500 Referral Points.
These badges are also retroactive, and will begin awarding tomorrow, April 25th at 10:00 MHQ time.
Referral Page
If you haven't checked out the Referral Program page on your profile recently, make sure you do! On this page, you can find your Referral code as well as the players you've introduced to the game and the number of Referral Points you've earned.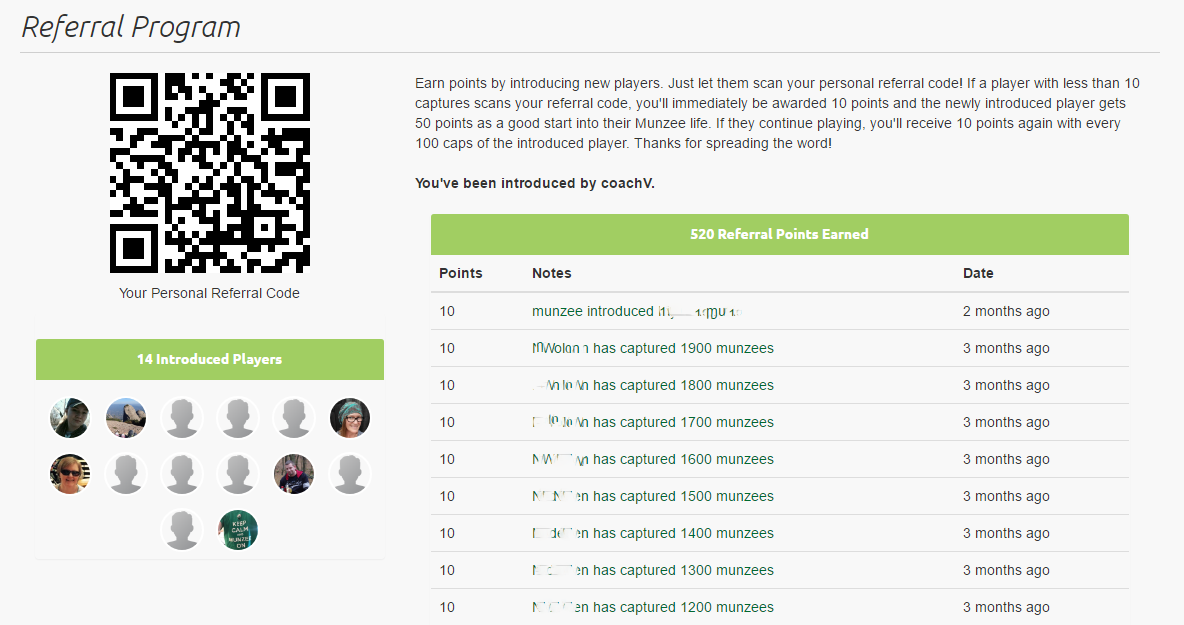 We want to thank you for all of your hard work growing the game. You are the backbone of the game and community. With your help, we can make the game bigger and better than ever before!
Munzee on!