Player of the Week: Warren Crossman (war1man)
As Munzee has grown over the years, the game has evolved in so many more ways than any of the co-founders could have imagined. We've certainly had our fair share of growing pains, but in its essence Munzee has tried to stick to its core goal of getting people out into the world. No one knows this better than those players who have been with us since the beginning. This week's Player of the Week is Warren Crossman (war1man).
Who are you?
I am Warren Crossman. I got my Munzee username from the first three letters of my first name, a "1", and the last three letters of my last name. I do not like war — unless it's Clan Wars! LOL. I munzee with my lifelong partner, Rosieree, and we have tons of fun with the game and all the players in it.
Where in the world do you live?
I live in Longwood, Florida, just north of Orlando, in the hear of Munzee-rich Florida. We had a fun time developing the area with the other Florida Munzee players.
How long have you played Munzee?
I started Munzee when it first came out but found it pretty boring as it was only greenies. They were very sparse, and the only ones showing were usually either way off with their coordinates or missing. I stopped playing, and then, in early 2013 while off with some friends doing that other location based game, I spotted a munzee on a lamppost at a McDonald's we had stopped at. I downloaded the app, signed in , and scanned a few in the area. The rest is history…
What do you most enjoy about Munzee?
I like to walk, but I need a purpose — which Munzee provides. I like the way MHQ keeps the game changing and is constantly challenging us. Sometimes I think they do too much too fast, but that's better than not enough, right? I also like the other players involved in Munzee, so Clan Wars really appeal to me. I think that by working with other players and developing a big clan group, we have become a fun family. I now have friends all over the world that I have met through Munzee.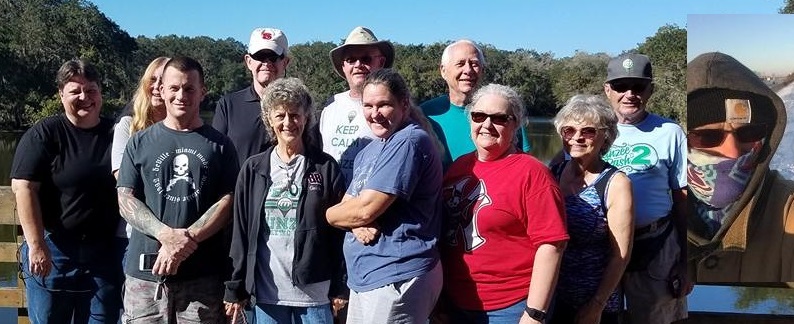 What is on your wish list?
I enjoy events, but I wish they would limit the amount of events in a given area. Too much of a good thing is sometimes not good. I wish that MHQ members would limit the events they put on in areas like outs that have events more frequently.
Tell us about yourself!
I have been married to Marie for almost 47 years, and we have 5 beautiful children, who are now adults, and an amazing 6 year old grandson who loves to munzee with Grandma and Papa. I own a flooring business that specializes in retail stores. I am thinking about retiring, but I'm just not ready yet. I was born in Massachusetts, but my mother moved us to Florida when I was 5, so I am Floridian 100%. I love my Florida Gators and Tampa Bay Buccaneers, but I also pull for the Patriots since they were my first NFL team. I love Nascar.

Other hobbies include:
Other?? Munzee takes a lot of my free time, and I love to run into people who don't have a clue as to what I am doing while Munzeeing and try to introduce them. I also love it when new people start capping in the area. We try to introduce ourselves to them and explain the game.
Any last words?
Thanks, MHQ, for keeping the game changing and making it fun. I think that change can be good. I just hope we don't lose the basic physical gameplay by making it obsolete.
war1man also include a social, so cap away!