Player of the Week: Anu Sundell (anski)
As Munzee has grown over the years, the game has evolved in so many more ways than any of the co-founders could have imagined. We've certainly had our fair share of growing pains, but in its essence Munzee has tried to stick to its core goal of getting people out into the world. No one knows this better than those players who have been with us since the beginning. This week's Player of the Week is Anu Sundell (anski).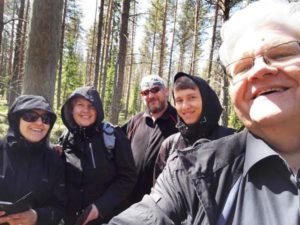 Who are you?
Hi, my name is Anu, and my player name is anski.
I am a photographer with my own studio. My clientele is mostly children and families. I love my job and have been fortunate to make a dear hobby into a profession.
Where in the world do you live?
I live in Kokkola which is a small town in Finland. Even though our town isn't big, it is one of the most active towns in Finland where Munzee is played. We have a good number of active players.
How long have you played Munzee?
I have been playing since August 2013.
How did you find Munzee?
I found my first QR code in a cache and was very curious to find out what it was. I scanned it with a QR reader and found my answer! Excited as ever, I rushed home to a computer to find out more. In no time, I had my own Munzee profile set up.
At that time, there were only a few greenies on the map, and 100 points in a day was definitely something else! I am one of the first players in the area. Nowadays, there is a good sized group of active players in the area whcih I am super excited about.
What do you most enjoy about Munzee?
Along with my husband (Tomppa71), I am really into Clan Wars. We both are members of the NorthernWestCoast clan. Due to the number of active players in the area, there are other active clans as well which we like to cooperate with. Reaching common goals and getting to know the other players are aspects of the game that I really like. Being in a clan has given me the opportunity to meet numerous new players. Munzee takes you to new places and encourages you to get out and about.
What is on your wish list?
I enjoy the various themed specials that luckily appear on the map rather often. They give added spice to Clan Wars. So, my wish is for Munzee to keep that up. The downside to having multiple active players in a small town is that just about all the poles are taken already. Hence, it would be nice to have a virtual that acted like a greenie. In other words, you would have to be at the location to deploy. With "virtual greenies", it would be possible to build new trails, e.g. on nature trails. Having the same filters on the website map as in the app would help when planning where to go and what to cap.
Tell us about yourself!
As a Munzee players, I am more into tactics than capping the most possible points. I set up my goals according to Clan War requirements. I mostly play in the vicinity of my hometown, but I do have plans to visit some point heavy areas in the future. Maybe the next vacation destination will be chosen with the help of the Munzee map 😉
Other hobbies include:
During summers, I spend a lot of time in our vacation spot at a camping site in Kalajoki, Finland. As it happens, it is also an active Munzee area. It is also a fantastic site for walking by the sea, admiring gorgeous sunsets. I actually spend most of my free with my dear hobby, Munzee.
Any last words?
I would like to thank those whom nominated me. I am really surprised and excited about this. A great, big thank you to Team Munzee for a great game. Munzee on!
anski has included some socials, so cap away!