Introducing NEW Flat Friends Badges! (Plus Sale!)
With two of our Flat Friends planning to tie the knot, it seems like the perfect time to add some more excitement to the world of our flat game companions. That's why we're happy to announce our brand new line of Overall Flat Friends Capture and Deploy badges that are available as of 10:00 MHQ time today!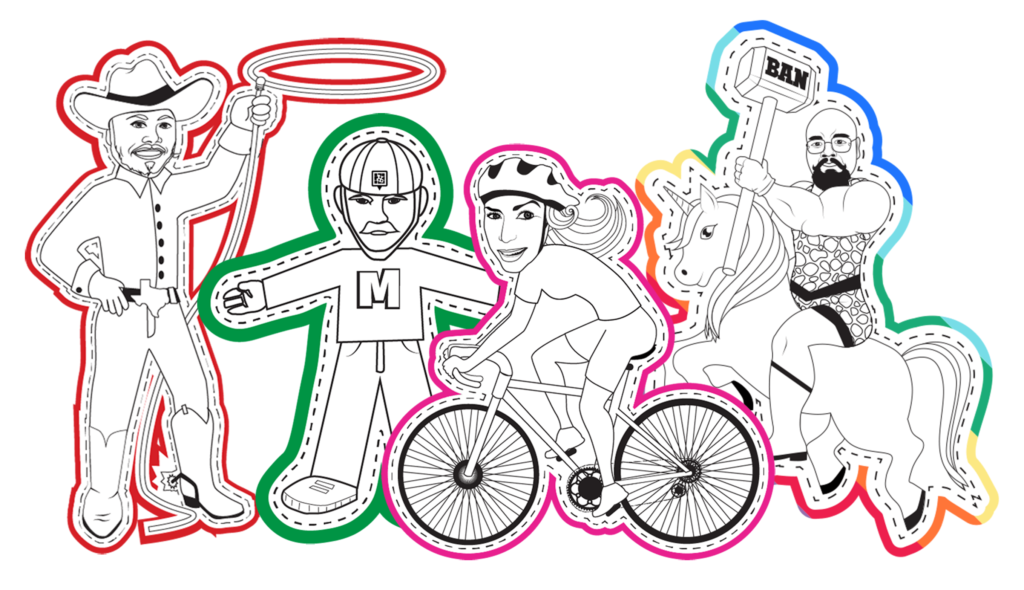 Badge Line Details
Our brand new line of overall capture and deploy badges will be for ANY type of Flat Friend Munzee, including the Fancy Flat Friend Variants. That means Flat Rob, Flat Matt, Flat Lou, and Flat Hammock PLUS Beach Flat Rob, Tux Flat Rob, Cold Flat Rob, Matt'er Up Flat Matt, Footy Flat Matt, and Face-Off Flat Matt all count for our Overall Flat Friends badges!
These badges will be retroactive, so all of your hard-earned Flat Friends captures and deploys will count towards earning some new achievements! There will be a Null for each line, with only the next available badge made visible.
The badges will start being awarded as of the publication of this blog, so you might just see some new badges today!
AccesorZees and Sweet Ridez!
The Overall Flat Friends badges will be awarded for both captures and deploys. The capture line features different "AccesorZees" for our Flat Friends, like Flat Rob's hat, Flat Matt's lasso and more! The deploy badge line features "Sweet Ridez" AKA different modes of transportation like Flat Rob's Munzee Mobile and Flat Lou's Bike!
There are currently 8 badges that you can earn per category, with 2 badges per each Flat Friend per category. That means each Flat Friend has 2 capture and 2 deploy badges to earn based on number of deploys or captures, for a total of 16 brand new badges! Please note that although these badge designs are attributed to specific characters, you can earn the badges by capturing and deploying ANY Flat Friend.
While we're not about to reveal everything, we will provide a sneak peak of the first badge for both the capture and deploy lines. As you can tell by the requirements, you're going to have to be quite the Flat Friends master to pick up all of these badges, because the numbers get high! Think you have what it takes?! Here's a sneak peak of the capture and deploy badges:
Before you check to see if you've earned these badges already, we have one more piece of fun information!
Flat Friends Sale! (And Personal!)
Here at Munzee, we always like to celebrate good news with a sale! So we're happy to announce our Flat Friends Sale, as well as the addition of a new Flat Friends Personal Tag in the Freeze Tag Online Store! You can shop the entire collection, including the new Personal Tag, HERE!
We will be celebrating our Flat Friends badges by offering 25% off the original four Flat Friends game pieces starting at 10:00 MHQ time today and lasting until Monday, August 19 at 12:00 MHQ time. That means you have several days to shop discounted Flat Friends! (The sale will include the Flat Friends game pieces only. Fancy Flat Friends Variants will NOT be available for purchase at the time.) PLUS, remember that all activity on Flat Rob and Flat Lou will be double points through the 23rd!
And if you really want to celebrate our Flat Friends, then you can also pick up our brand new Flat Friends Personal Tag for $10 each! Check out the QRazy awesome designs:
While our current sale will certainly make Flat Friend deploys a bit more convenient, be sure to check out our August Flat Friends schedule to be up to date on the latest Flat Friends capping opportunities!
Alright, now go check to see if you've earned any new badges!
Munzee on!