Player of the Week: Leslie Burg (MrsHB31)
As Munzee has grown over the years, the game has evolved in so many more ways than any of the co-founders could have imagined. We've certainly had our fair share of growing pains, but in its essence Munzee has tried to stick to its core goal of getting people out into the world. No one knows this better than those players who have been with us since the beginning. This week's Player of the Week is Leslie Burg (MrsHB31).
Who are you?
I'm Leslie Burg. My Munzee name is MrsHB31.
Where in the world do you live?
I live in the United States in the town of Wesley Chapel, North Carolina which is located just outside of the city of Charlotte.
How long have you played Munzee?
I've been playing Munzee for about 5 1/2 years. I capped my first munzee in August 2012.
How did you find Munzee?
I discovered Munzee through a contest held by our local caching club. The contest involved alternative location-based games which introduced me to a few interesting games. The only one that stuck was Munzee!
What do you most enjoy about Munzee?
I enjoy chasing Mythologicals and other expiring specials. I also enjoy meeting other players at events. I have met some really great people through Munzee.
What is on your wish list?
I would like to see a feature in the app that would allow me to see areas that are blocked by existing Destination Munzees to help locate areas where new Destination Munzees can be added to the map.
Tell us about yourself!
I am an elementary school teacher, mother of two teenagers, and wife of 20 years to another Munzee fan (can you guess his username?). While my kids have not been bitten by the Munzee bug, my husband and I enjoy travelling to events and munzee-heavy areas with our camper and even deployed on a few Caribbean islands this summer.
Other hobbies include:
My other hobbies include boating, traveling, and following NASCAR.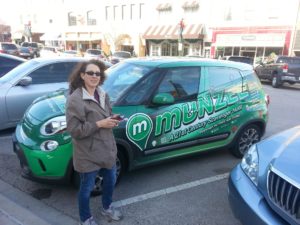 Any last words?
I'm looking forward to seeing whatever new twists Munzee plans to throw into the game in the future. I also want to thank whoever nominated me — I am very honored to be Player of the Week!
MrsHB31 also included some socials, so cap away!