Player of the Week: Becky Forsythe (rgforsythe)
As Munzee has grown over the years, the game has evolved in so many more ways than any of the co-founders could have imagined. We've certainly had our fair share of growing pains, but in its essence Munzee has tried to stick to its core goal of getting people out into the world. No one knows this better than those players who have been with us since the beginning. This week's Player of the Week is Becky Forsythe (rgforsythe).
Who are you?
My player name is rgforsythe. My real name is Becky Forsythe.
Where in the world do you live?
I live in Battle Ground, Washington USA.
How long have you played Munzee?
My sister downloaded the app on my phone in January 2013 because she was playing, but he phone went dead. In the process, she made me an account, but I didn't start playing for nearly two years. I stated playing January 13, 2015. I think my cap streak goes from that day, also. I get hooked so easily.
How did you find Munzee?
I injured my Achilles tendon and couldn't do anything but sit around, so I started cleaning up my phone and saw the app that my sister had downloaded nearly two years earlier. I opened it and started capping things. I didn't have a clue what I was doing, and of course it was on my sister and brother-in-law's account, so I immediately got them banned for playing on two devices that were 4,000 miles apart. Once we got everything straightened out, I started to play. It took a long time for my leg to heal, so walking short distances to cap was a perfect recovery and gave me a reward when I actually found a munzee to cap. It is much better now.
What do you most enjoy about Munzee?
I like hand capping because that way I continue to walk with purpose. If I have time, I will even hand cap a virtual garden just because I like to. Other things I like a whole lot are the new people I have met from around the world and the good times I spend with family and friends on Munzee expeditions. I recently got to attend a Go Green Event in Budapest, Hungary. Everyone there was so great, and it really didn't matter that I didn't speak an Hungarian. Players helped anyway they could — some by pointing, other by speaking English to us. I also like that the game moves at a god pace and that it keeps changing and growing.
What is on your wish list?
I would like to see a way to help long-time players feel like they can still play in Clan Wars without traveling. It seems like more and more I hear long time players concerned about cap points because they have capped everything within 20 miles of their home. This month (April 2018) is great because of all of the recycles. And as long as I am wishing, I would also like to see an Emerald Garden in Delta Park, Portland, Oregon.
Tell us about yourself!
My husband (amadoreugen) and I play Munzee together. We are both very competitive people, so this has been a friendly source of rivalry for us both. We also love to travel and are fortunate to have played in over 25 countries. We have a lifestyle of long distance walking and have documented more distance than the distance around the world at the equator. We particularly enjoy one of our personal goals: to walk all of the National Trails of Great Britain. I think we have completed 8 so far, so we might run out of energy before we get done.
Other Hobbies Include:
Besides my love for walking, I love glass and beads. I have a tiny lampwork studio that doubles as a work shop for other jewelry component making, particularly glass fusing and metal work that I sell to local jewelry makers. Nothing valuable, but a nice creative outlet for me.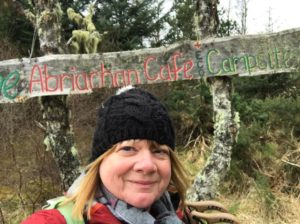 I own a small business selling ceramic beads that are imported from Kenya. This supports a project that was started by an amazing woman 40 years ago to provide salaried employment for women in Nairobi so they do not need to live in the slums any longer. The beads are beautiful, and I usually sell them at trade shows, but as any business person knows, I am always willing to sell to anyone at any time. I make custom jewelry orders for customers out of these beads too.
Any last words?
I want to thank the person who nominated me as Player of the Week and also all of the players for continuing to cap my deploys. I also want to thank the hard workers at MHQ for everything they do to make my day a little happier and a lot more fun. Please keep up the good work; you are all such creative thinkers. Jibby!
rgforsythe also included some socials, so cap away!