Team Munzee Tuezday: Matt
Here at Munzee we're constantly encouraging our players to meet and greet and build the personal relationships that make this game so great. While Matt is one of Munzee's most recognizable faces, there might be some things you don't know about him! That's why we had him update his answers! Today we're taking the time to get to know Matt, Munzee's resident cowboy. Does he look familiar to any new players? Perhaps you've had the pleasure of deploying or capturing a Flat Matt Munzee!
Name and Title:
Matthew McCann; eCommerce and Web Manager (matthewmccann)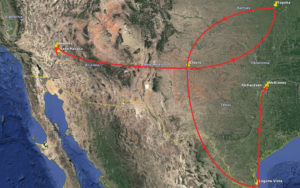 Where are you from?
Born: Lake Havasu, Arizona; Hometown: Laguna Vista, Texas; Currently: McKinney, Texas
Tell us about yourself:
I spent most of my life in South Texas before moving to Richardson to attend UT Dallas. I've now been in the DFW area for almost 9 years. I love sports and traveling, especially when I can combine the two, and I'm on a mission to visit all 30 MLB parks before I turn 30— I'm at 17, so I've got a few to go. I also love trying/visiting craft breweries with friends. Other than that, you can usually find me tinkering with electronics —my office is often referred to as Radio Shack— or binging shows and movies.
How long have you worked for Munzee?
I celebrated my 5 year anniversary with Munzee/Freeze Tag in early May.
How did you find Munzee?
I actually knew Rob before he started working for Munzee from supporting our local minor league hockey team. When I was looking for a job during summer break in college, it was brought up that Munzee was looking to add someone new to the team. I interviewed and started a week later. (Employee #4!)
What do you enjoy most about Munzee?
In the last five years, a lot has changed: five offices, countless job titles, a merger, etc. One thing that hasn't, though, is the dedication of both the team and the players. For employees, this isn't just a job. We put so much of ourselves both physically and emotionally into our work (and often times rope our families and friends into it). We also see players who have done so much for the community and us that you won't find in other games, not to mention other jobs. They've become good friends to many of us. When you put those together, it creates such an amazing experience that I'm grateful to have had and continue to have. So, if I haven't said this to you before, thank you! Also, I'm pretty partial to that really cool game piece called Flat Matt. 😉
What are some of your other hobbies? 
Who needs other hobbies when you have Munzee?? Ha! But, like I said before, traveling and sports is mostly where it's at. I'm also a pretty big SciFi nerd, so I go to conventions when I can. I also love music and going to concerts.
Famous last words?
"We're all stories, in the end. Just make it a good one, eh?" – The Doctor
Check back next week to get to know another member of Team Munzee and Freeze Tag!