Christmas is right around the corner, and people around the world are getting ready to celebrate. For some, that means bundling up and getting ready to play in the snow. For others, shorts and a t-shirt will be the attire of the season. Our Christmas special accounts for both of those groups.
Beginning now (15:00 MHQ time on December 15th), 1009 Sun icons and 1009 Snowflake icons (2018 in total) will be on the map. These specials will bounce on greenies every 6 hours or when capped. When you cap either of these icons, you will earn 20 points, and the owner of the host munzee will earn 18 points. These icons will leave the map at 23:59 MHQ time on Sunday, December 31st.
There are three badges that can be earned during this special:
Winter Wonderland – Capture at least one (1) Snowflake icon.
Christmas in the Sun – Capture at least one (1) Sun icon.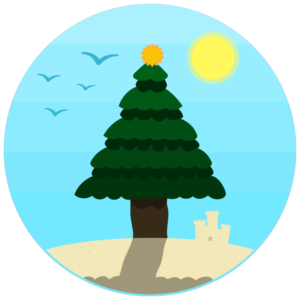 Wacky Weather Christmas – Cap at least one (1) Snowflake icon and at least one (1) Sun icon.
These icons are attracted by Magnets, you CAN capture these icons on your own munzees, and these will count toward the Special Hunters badge line.
We hope you enjoy this special! Have fun capping!
Munzee on!